#SheQuotes on unsolicited advice #Quote #advice #life #lessons #confidence #busybodies
#SheQuotes on unsolicited advice #Quote #advice #life #lessons #confidence #busybodies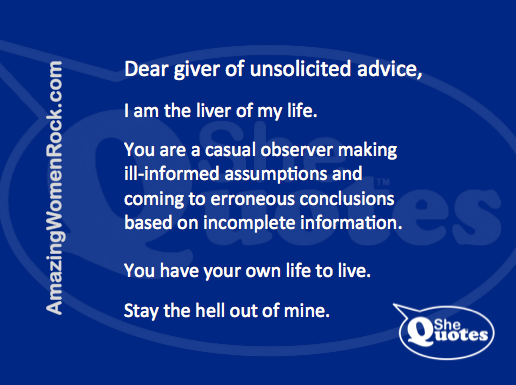 I know what's best for me. I am the one in charge of my life, not you. If you want to run someone's life, start and end with your own.
P.S. to all my beautiful friends and acquaintances worldwide who give me oodles of unconditional love and support and share their wisdom and experiences with me when I solicit their input: thank you, I love you and I am so grateful you are here to hold my hand <3
Susan Macaulay is the creator and curator of She Quotes, Amazing Women Rock and My Alzheimer's Story. She also blogs about other random stuff here.
an open letter to everyone who knows what I should do before I ask them
You Are Exactly Where You Should Be
Choose Peace Within
Leap With Faith & Land On Your Feet
Life Can Be Scary. It's OK To Feel Afraid.
All My Life's A Circle
There's A Light At The End Of The Tunnel
Happiness is a Journey, NOT a Destination
Hold On: Things Will Go Your Way!
Scare The Devil Every Day
#SheQuotes, advice, attitude, confidence, courage, determination, experience, goals, gossip, greatness, inspiration, know it alls, life, potential, self esteem, success, Values