#SheQuotes on counting your blessings #Quote #life #gratitude #attitude
#SheQuotes on counting your blessings #Quote #life #gratitude #attitude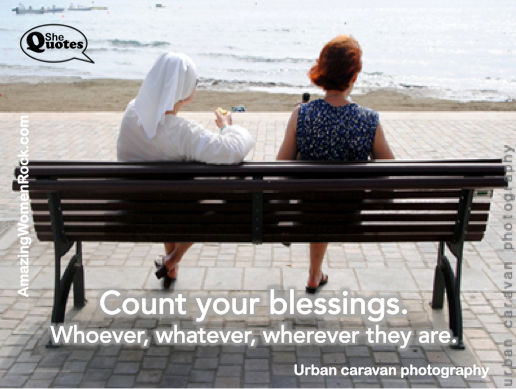 My life, like everyone else's is challenging. It is also full of blessings and magic. The other morning, I expressed my gratitude to a friend I've never met, but who is an angel in my life. I wrote:
I love you because you are so smart and witty and authentic and funny and such a great writer and you are so engaged with life. And creative. You are so creative! And funky. and I love you and C. as a pair. I'm just so proud of you and am really really grateful for your support. I just want you to know all that. I think you are amazing. Really. I am fortunate to have such fab friends worldwide. People I have never met who are in my life put there by angels. I am really lucky. I couldn't survive without the support I get from you and many others. I really thank you from my whole heart. The up side of social media. Imagine – we randomly met on Twitter years ago… Life is interesting that's for sure!
I count my blessing every day. And I let them know.
Thanks to urban caravan photography for the thought-provoking pic <3
More quotes on gratitude.
6 Powerful Ways to Make Your Life More Beautiful
30 Tips To Live A Magically Wonderful Life
50 Ways to Give Thanks to Yourself
An Everyday Checklist For Happiness
Fill The Empty Box With Something Joyful
Hair Today, Gone Tomorrow
We May Not Be Famous, But We Can Be Grateful
attitude, beauty, gratitude, greatness, inspiration, learning, life, love, success, urban caravan photography, Values