#SheQuotes Laurel Thatcher Ulrich on misbehaving #quote #women #power #confidence
#SheQuotes Laurel Thatcher Ulrich on misbehaving #quote #women #power #confidence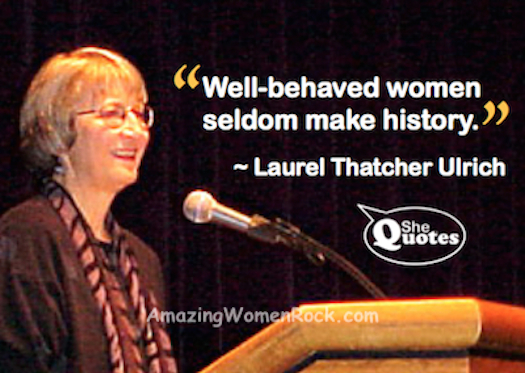 Women who make history shake things up. They catalyze change; they are pioneers. Pioneers don't play by the rules, they make their own. They don't follow orders they give them. They don't go with the flow, they swim against the tide.
No. We don't behave. We misbehave. Thank goodness we do.
Laurel Thatcher Ulrich (Historian/Author)
Susan Macaulay is the creator and curator of She Quotes, Amazing Women Rock and My Alzheimer's Story. She also blogs about other random stuff here.
attitude, confidence, courage, determination, equal opportunity, equality, feminism, Gender equality, goals, greatness, inspiration, Laurel Thatcher Ulrich, learning, success, Values, women