#SheQuotes Ash Beckham on closets and coming out of them #Quote #self #esteem
#SheQuotes Ash Beckham on closets and coming out of them #Quote #self #esteem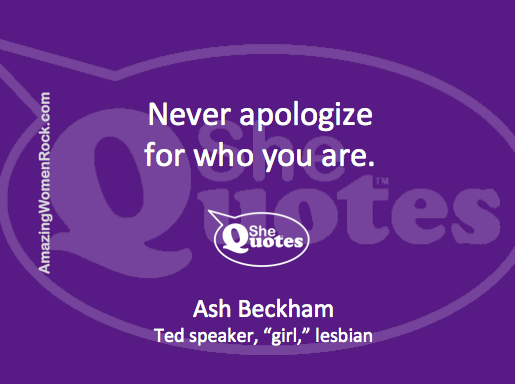 Watch the talk:
6 Powerful Ways to Make Your Life More Beautiful
Here's To Being A Crazy One. A Misfit. A Rebel. And A Square Peg In A Round Hole.
Fitting In Is Vastly Overrated, It's Proven
Here's To The Crazy Ones: Let's Emulate
Amazingwomenrock.com & I
I Gotta Feeling Today's Gonna Be A Good Day
Keep Notes In Your Pockets
Susan Macaulay is the creator and curator of She Quotes, Amazing Women Rock and My Alzheimer's Story. She also blogs about other random stuff here.
Ash Beckham, attitude, confidence, courage, determination, Gender, Gender equality, health, homosexuality, inspiration, lesbian, life, relationships, self esteem, sex, success, TED talks, Values