Katharine Hepburn carried a sledgehammer #SheQuotes #Quote #confidence #action #goals #attitude #determination #motivation
Katharine Hepburn carried a sledgehammer #SheQuotes #Quote #confidence #action #goals #attitude #determination #motivation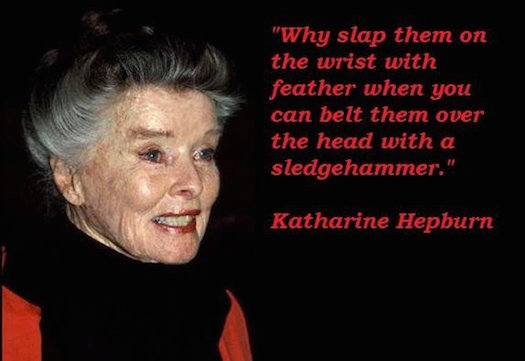 Speak your mind, take a stand, make your voice heard.
Katharine Hepburn (Actress/Record Oscar Winner) (includes fascinating video clip of interview with Dick Cavett; Ms Hepburn didn't take shit from anyone!)
Be A Queen: Own Your Power And Glory
Invisible Women: Where Is Half The World's Population?
7 Powerful Secrets For Parenting Girls
SHERYL SANDBERG ON WHY WE HAVE TOO FEW WOMEN LEADERS
7 WAYS TO WAKE UP & REALIZE YOUR DREAMS
5 QUICK TIPS TO HELP MASTER MENOPAUSE
WHAT REAL WOMEN DO YOU LOOK UP TO?
RUN LIKE A WOLF TOWARD YOUR FEARS!
action, attitude, being human, change, confidence, courage, determination, empowerment, goals, inspiration, Katharine Hepburn, life, motivation, potential, self esteem, self-motivation, success