#SheQuotes Roxana Jones on doing the impossible #Quote #potential #belief #confidence
#SheQuotes Roxana Jones on doing the impossible #Quote #potential #belief #confidence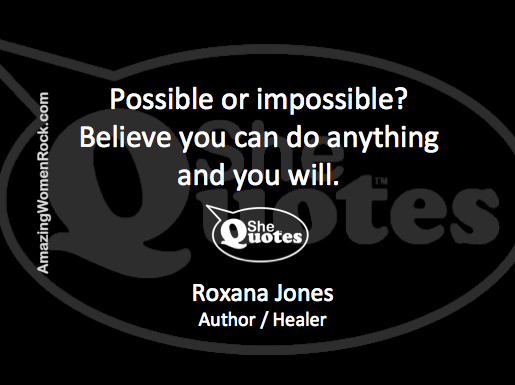 Impossible? Nah!
5 Steps to Success When Things Seem Impossible
6 Powerful Ways to Make Your Life More Beautiful
Find Peace & Healing In Your Core
10 Affirmations to Kickstart Yourself
40 Ways to Empowerment & Well-Being
You Are Exactly Where You Should Be
Do Stuff That Thrills & Excites You!
Susan Macaulay is the creator and curator of She Quotes, Amazing Women Rock and My Alzheimer's Story. She also blogs about other random stuff here.
attitude, change, confidence, courage, determination, equal opportunity, goals, greatness, inspiration, learning, life, potential, Roxana Jones, self esteem, success