#SheQuotes on making it through bad days #quote #courage #determination
#SheQuotes on making it through bad days #quote #courage #determination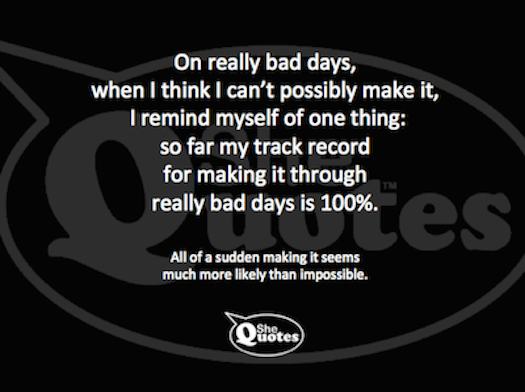 Yep. I've done it before, and I can surely do it again!
#1 Way To Do Positive Affirmations
10 Affirmations to Kickstart Yourself
37 Quick Tips To Help Maintain Your Sanity
5 Ways To Make Today Better Than Yesterday
Be A Queen: Own Your Power And Glory
I'm Gonna Ride On Into The Next Town
30 Relationship Tips For Women Who Love Men
An Open Letter To Girls About the Men Who Fear Them
10 Life Lessons I Learned From Being a Biker
Susan Macaulay is the creator and curator of She Quotes, Amazing Women Rock and My Alzheimer's Story. She also blogs about other random stuff here.
#SheQuotes, attitude, confidence, courage, equal opportunity, goals, greatness, hope, humour, inspiration, learning, life, potential, self esteem, success