#SheQuotes CEO Rose Smith on getting noticed #Quotes #success #hardwork
#SheQuotes CEO Rose Smith on getting noticed #Quotes #success #hardwork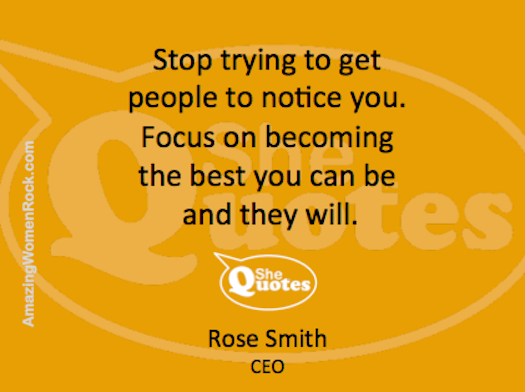 Image is one thing. Substance is quite another entirely. Be substantive. Be juicy. Kick ass.
20 Sheryl Sandberg Quotable Quotes
7 Powerful Secrets For Parenting Girls
Sheryl Sandberg on Why We Have Too Few Women Leaders
5 Ways to Take Credit & Not Be A Dick
Sheryl Sandberg (CEO of Facebook/Former Chief of Staff US Department of the Treasury)
AAA Alphabetical TED Women Talks List
Life Can Be Scary. It's OK To Feel Afraid.
The Margaret Moth Story: FEARLESS (or: A Heroine Just Walked Into My Life)
You Don't Have To Be Shot At To Be Brave
Run Like A Wolf Toward Your Fears! (1 minute video)
attitude, change, confidence, courage, equal opportunity, goals, greatness, inspiration, self esteem, success, Values, women