#SheQuotes Sandra Galati on #wisdom #WordHugs #Quotes
WordHugs founder Sandra Galati on wisdom.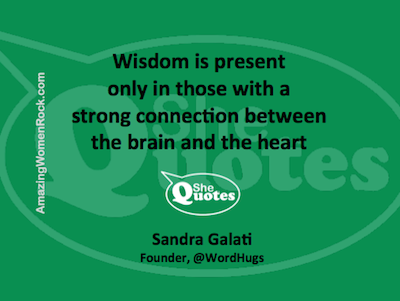 Wisdom, like love, courage and determination resides within all of us. But it can't be accessed solely through the mind or the heart – it's a product of a marriage between deep knowing and deep feeling. Neither on its own is sufficient. Open your heart and mind. Tap into your inner wisdom.
You Are The Guide to Your Own Journey
Healing Words From A Wise Old Woman
30 Relationship Tips For Women Who Love Men
10 Affirmations to Kickstart Yourself
#WordHugs, attitude, change, confidence, courage, greatness, potential, Sandra Galati, self esteem, success