22 More Jacqueline Novogratz #SheQuotes #quotes on #money #humanity #poverty #wealth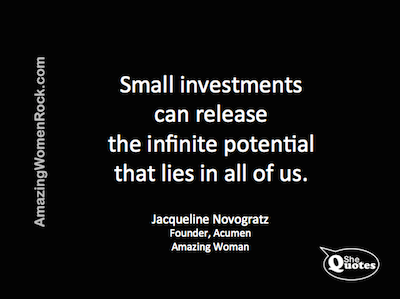 Jacqueline Novogratz founded and leads Acumen, a non-profit organisation that takes a businesslike approach to improving the lives of the poor.
In her book, The Blue Sweater, she tells stories from the new philanthropy, which emphasizes sustainable bottom-up solutions over traditional top-down aid. Besides being an anti-poverty activist, Novogratz is a gifted speaker and storyteller.
 "Being poor doesn't mean being ordinary."
"When systems are broken, it's an opportunity for invention and innovation."
"There are probably no more market-oriented individuals on the planet, than low income people."
"Dignity is more important to the human spirit than wealth."
"The time for us to begin innovating and looking for new solutions is now."
 "I was going to save the world, and I thought I would start with the African continent."
"Africans didn't want saving, thank you very much, least of all not by me."
"Failure can be an incredibly motivating force."
"What we call people so often distances us from them, and makes them little."
"Things are always harder than you think they're going to be."
"Listening is not only about waiting, but it's also learning how better to ask questions."
"Dignity is more important to the human spirit than wealth."
"When people gain income, they gain choice, and that is fundamental to dignity."
"Human beings want to see each other. We want to be heard by each other."
"Traditional charity and aid are never going to solve the problems of poverty."
"All people deserve access to health at prices they can afford."
"We often don't realize what our action & our inaction do to people we think we will never see & never know."
"The only way to end poverty, to make it history, is to build viable systems on the ground that deliver critical and affordable goods and services to the poor, in ways that are financially sustainable and scaleable. If we do that, we really can make poverty history."
"Four billion people on Earth make less than four dollars a day."
"The poor also are willing to make, and do make, smart decisions, if you give them that opportunity."
"People really don't want handouts, that they want to make their own decisions."
"It's about all of us, and the kind of world that we, together, want to live in and share."
5 Amazing Talks By Acumen Fund Founder Jacqueline Novogratz
20 Jacqueline Novogratz #SheQuotes #quotes on #money #humanity #poverty #wealth
equal opportunity, equality, goals, greatness, inspiration, Jacqueline Novogratz, Money, potential, self esteem, success