Befriend amazing women. You will be better for it. ~ #SheQuotes #Quotes #friendship #inspiration #success #goals
Befriend amazing women. You will be better for it. ~ #SheQuotes #Quotes #friendship #inspiration #success #goals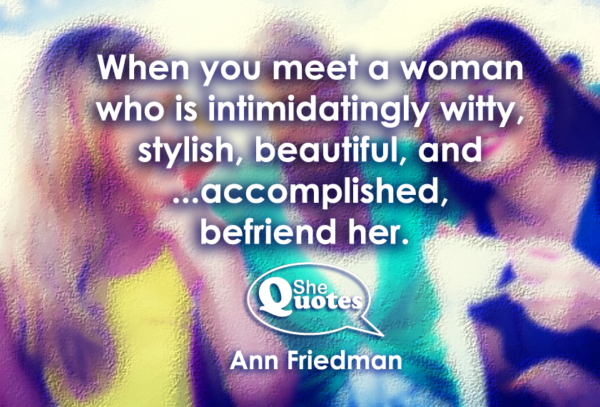 This quote was pulled from this article.
The Women Who Broke All The Rules
Be A Queen: Own Your Power And Glory
Invisible Women: Where Is Half The World's Population?
7 Powerful Secrets For Parenting Girls
SHERYL SANDBERG ON WHY WE HAVE TOO FEW WOMEN LEADERS
7 WAYS TO WAKE UP & REALIZE YOUR DREAMS
WHAT REAL WOMEN DO YOU LOOK UP TO?
RUN LIKE A WOLF TOWARD YOUR FEARS!
#SheQuotes, attitude, confidence, connection, feminism, friendship, greatness, inspiration, learning, potential, power, self esteem, transformation, Values