Trauma permanently changes us. ~ #SheQuotes Catherine Woodwiss #Quotes #life #trauma #transformation #destiny
Trauma permanently changes us. ~ #SheQuotes Catherine Woodwiss #Quotes #life #trauma #transformation #destiny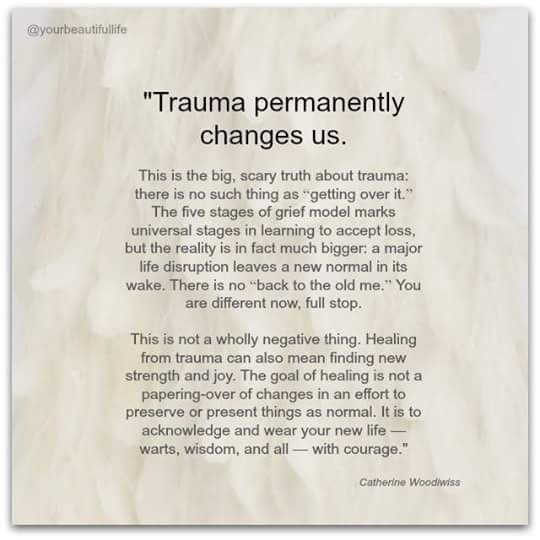 I found this meme thanks to dementia care professional Karen Francis of Maria's Place; she introduced it with these thoughtful words:
The cause of the trauma is varied: divorce, illness, accidents, death/bereavement to extreme experiences of war, torture, assault, domestic abuse, rape and genocide, etc, etc.
No human, no matter how strong you think you are or how strong or resilient others think you are- you are not immune to experiencing trauma, but this is not a bad thing.
Grief, stress, trauma are all things we would love to avoid – but we can't. It is true that with the right support, no matter how tragic the loss, we can all evolve from the experience as a person with more tools to get us through future trauma and possibly the ability to help others we know and love who might go through some sort of loss, tragedy, trauma.
6 Powerful Ways to Make Your Life More Beautiful
Find Peace & Healing In Your Core
10 Affirmations to Kickstart Yourself
40 Ways to Empowerment & Well-Being
You Are Exactly Where You Should Be
Do Stuff That Thrills & Excites You!
100+ amazing women rule breakers
Be A Queen: Own Your Power And Glory
SHERYL SANDBERG ON WHY WE HAVE TOO FEW WOMEN LEADERS
7 WAYS TO WAKE UP & REALIZE YOUR DREAMS
5 QUICK TIPS TO HELP MASTER MENOPAUSE
WHAT REAL WOMEN DO YOU LOOK UP TO?
RUN LIKE A WOLF TOWARD YOUR FEARS!
attitude, awareness, Catherine Woodwiss, change, confidence, courage, death, determination, goals, gratitude, greatness, healing, health, hope, inspiration, learning, life, loss, love, now, potential, success, trauma, Values