Ho ho hope I can make it… #Shequotes #quote #holidays #Christmas #festive #family #sanity
Ho ho hope I can make it…  #Shequotes #quote #holidays #Christmas #festive #family #sanity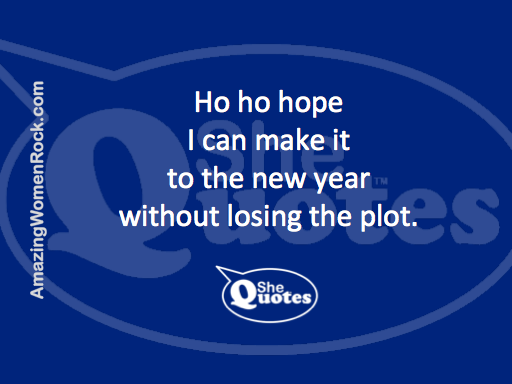 THE STORY OF THE LITTLE MATCH GIRL BY HANS CHRISTIAN ANDERSEN
10 LOL CHRISTMAS CONSUMPTION TIPS FOR THE CALORIE UN-CONSCIOUS
MARY, MOST FAMOUS MOTHER OF ALL TIME
LET'S CHRISTMAS CAN CAN ALL YEAR LONG!
AMAZING WOMAN HAPPY TO HELP FAT DUDE IN SLEIGH WITH REINDEER
@KATIEGOODMAN WILL BE JEWISH FOR XMAS
ALL I WANT FOR CHRISTMAS BY HMS OCEAN
RUDOLPH & THE REST ARE ACTUALLY GIRLS!
SILENT NIGHT WITH THE JINGLE CATS LOL
JINGLE CATS? YOU BET. BUT JINGLE SHEEP…?
THE GOLDEN BOX: A CHRISTMAS STORY
MY LIFE AS A CHRISTMAS CARD: QUEBEC, CANADA 2009/2010
HOW BIG CATS CELEBRATE CHRISTMAS
MY DARLING CLEMENTINES: CHRISTMAS REFLECTIONS FROM MOROCCO
A SOLDIER'S NIGHT BEFORE CHRISTMAS
#SheQuotes, attitude, Christmas, courage, crazy, determination, family, fun, goals, health, holidays, humor, life, relationships, satire, she quotes, stress, success