"Rules? What rules?" ~ #SheQuotes #Quotes #rules #freedom #power #control #feminism
"Rules? What rules?" ~ #SheQuotes #Quotes #rules #freedom #power #control #feminism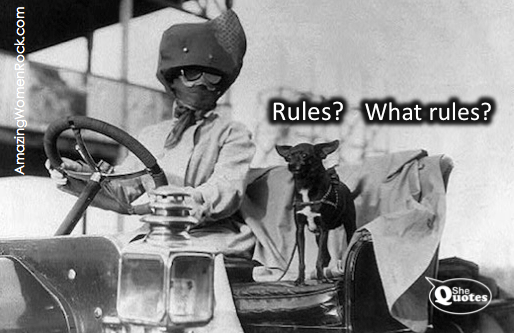 The Women Who Broke All The Rules
Be A Queen: Own Your Power And Glory
Invisible Women: Where Is Half The World's Population?
7 Powerful Secrets For Parenting Girls
SHERYL SANDBERG ON WHY WE HAVE TOO FEW WOMEN LEADERS
7 WAYS TO WAKE UP & REALIZE YOUR DREAMS
5 QUICK TIPS TO HELP MASTER MENOPAUSE
WHAT REAL WOMEN DO YOU LOOK UP TO?
RUN LIKE A WOLF TOWARD YOUR FEARS!
#SheQuotes, attitude, confidence, courage, determination, feminism, greatness, inspiration, learning, potential, power, self esteem, Values, Women's rights