"No man is good enough…" ~ #SheQuotes Susan B. Anthony #Quote #democracy #feminism #women #rights
"No man is good enough…" ~ #SheQuotes Susan B. Anthony #Quote #democracy #feminism #women #rights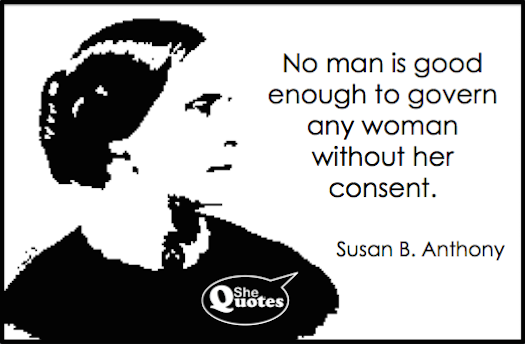 And look who is STILL in charge!
We have a long way to go yet. The United States does. Canada does. The whole world does. We have a long, long, way to go before women are treated as equal citizens everywhere on the planet because, at the moment, we aren't treated equally anywhere.
Fight the good fight.
More on Susan B. Anthony (Civil Rights Leader / Suffragist / Abolitionist)
20 Sheryl Sandberg Quotable #Quotes and Questions #leadership #women #feminism
Sheryl Sandberg on Why We Have Too Few Women Leaders
6 Malala Yousafzai #‎SheQuotes‬ #Quotes #education #girls #women #courage
10 Reasons Why Feminism Is Good For Guys
10 Ways To Be A Good Wife (in 1954)
12 Nike Ads That Make Me Wanna' Rock
10 Affirmations to Kickstart Yourself
confidence, equal opportunity, equality, feminism, Gender equality, gender parity, goals, government, greatness, inspiration, Sexism, success, Susan B. Anthony, Values, women, Women's rights