"Everywhere here I come!" ~ #Shequotes #quote #adventure #life #courage #destiny #heaven #hell #living #fun
"Everywhere here I come!" ~ #Shequotes #quote #adventure #life #courage #destiny #heaven #hell #living #fun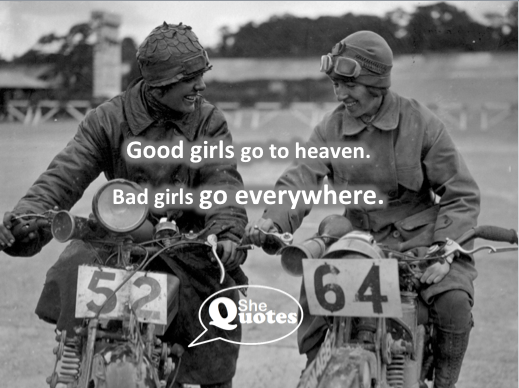 The fascinating potential origins of this quote are explained nicely by The Quote Investigator here.
It has variously been attributed to Helen Gurley Brown, Marilyn Monroe, and others. My sense is it has evolved over time.
In my 20s, I have the bumper sticker on my car. The ghost of it remains, as do my aspirations to be a truly bad girl.
See you everywhere.
Links to hundreds of bad girls here
A few of my personal favorites:
THE MARGARET MOTH STORY: FEARLESS (OR: A HEROINE JUST WALKED INTO MY LIFE)
FREYA HOFFMEISTER (KAYAKER/ADVENTURER)
ELLY BEINHORN (AVIATOR / PILOT)
3 WOMEN EXPLORERS WHO MADE HISTORY
AIMEE MULLINS AND HER 12 PAIRS OF LEGS
NELLIE BLY (JOURNALIST/ADVENTURER)
ALEXANDRA DAVID-NEEL (EXPLORER/ANARCHIST)
#SheQuotes, attitude, bad girls, confidence, courage, determination, feminism, fun, goals, good girls, greatness, happiness, health, heaven, hell, hope, inspiration, labels, life, love, potential, self esteem, success, Values