Janis Joplin had nothing left to lose #SheQuotes #Quote #freedom #music #life #death #destiny
Janis Joplin had nothing left to lose #SheQuotes #Quote #freedom #music #life #death #destiny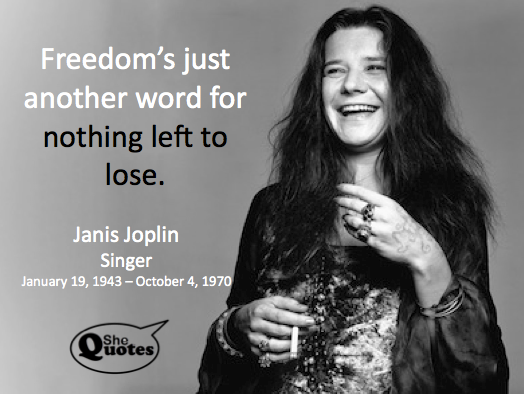 I still love her raspy voice and in particular her only #1 song Me and Bobby McGee.
Joplin was an American singer, songwriter and music arranger, who was bullied as a teen, was ranked #46 on Rolling Stone magazine's list of the 100 Greatest Artists of All Time in 2004, and number 28 on its 2008 list of 100 Greatest Singers of All Time.
She was a musical inspiration to icons such as Grace Slick and Stevie Nicks, she died tragically of a drug overdose in 1970 at age 27.
More about her, including a haunting version of Me and Bobby McGee here.
death, freedom, greatness, Janis Joplin, life, Me and Bobby McGee, music, pop, suicide