Enough is enough #shequotes #quote #abundance #happiness #life #love #challenges #Gratitude
Enough is enough #shequotes #quote #abundance #happiness #life #love #challenges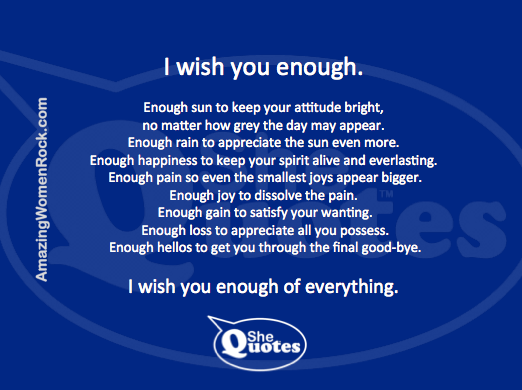 I feel grateful to have enough of everything in my life, although sometimes, when things are tough, it feels like they're out of balance. I've been on the floor curled up in a ball, begging for God to take me. I've also been on top of the world, invincible. All of that is part of living, and I'm grateful to be alive. Each new day teaches me something new. How lucky can you get?
more quotes on life
more quotes on gratitude
Shorty's Version Of Footprints In The Sand
The Cracked Pot: A Story For Anyone Who's Not Quite Perfect
15 Things I Would Do Differently If I Had My Life to Live Over
What Do YOU See Through The Window?
Things Are Not Always What They Seem
#SheQuotes, attitude, challenges, change, confidence, courage, death, fun, gain, goals, gratitude, greatness, happiness, health, hope, inspiration, joy, learning, life, living, loss, love, opportunity, pain, potential, sorrow, success, tears, Values