Yes, it does seem unlikely LOL # shequotes #quote #sexist #humor #Christmas #wisdom
Yes, it does seem unlikely LOL # shequotes  #quote #sexist #humor #Christmas #wisdom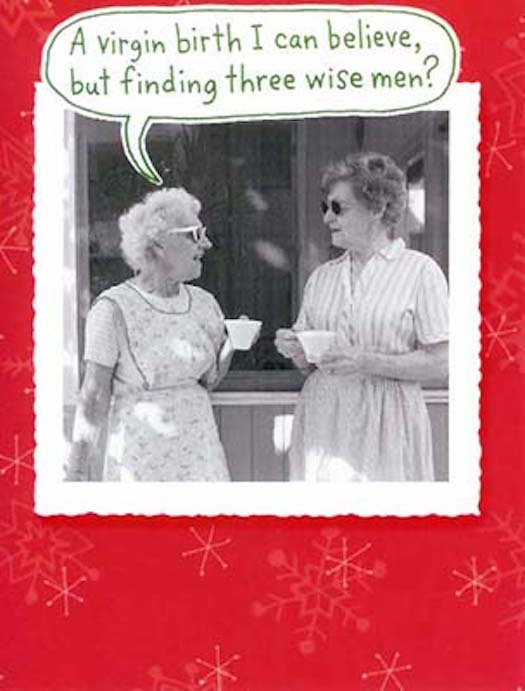 Before you jump on me for posting sexist humor, yes, this is sexist. And yes, I think it's funny. My bad!
Furthermore, had the three wise men been three wise women, they would have asked for directions, arrived on time, helped deliver the baby, cleaned the stable, made a casserole, brought practical gifts, AND there would have been peace on earth.  Ha!
And here are a bunch more Christmas-related links for your enjoyment:
10 LOL Christmas Consumption Tips For The Calorie UN-Conscious
12 Days of Christmas: Straight No Chaser
@KatieGoodman Will Be Jewish For Xmas
A Soldier's Night Before Christmas
All I Want For Christmas By HMS OCEAN
Amazing Grace Techno Christmas Light Show
Amazing Woman Happy To Help Fat Dude In Sleigh With Reindeer
Hallelujah: Christmas Choir Flash Mob
How Big Cats Celebrate Christmas
I'm Dreaming Of A PINK Christmas!
Jingle Cats? You Bet. But Jingle Sheep…?
Let's Christmas Can Can All Year Long!
Mary, Most Famous Mother Of All Time
My Darling Clementines: Christmas Reflections From Morocco
My Life As A Christmas Card: Quebec, Canada 2009/2010
Rudolph & The Rest Are Actually Girls!
Silent Night With The Jingle Cats LOL
Sing Like No One Is Listening At Christmas
The Golden Box: A Christmas Story
The Story of the Little Match Girl by Hans Christian Anderson
Yes, Virginia, There Is A Santa Claus
Christmas, coffee, directions, driving, fun, life, men, quips, Sexism, sexist, virginity, virgins, wisemen, women