Tina Turner lets go #SheQuotes #Quote #women #power #courage #self #esteem #confidence #creativity #health #happiness
Tina Turner lets go #SheQuotes #Quote #women #power #self #esteem #confidence #creativity #health #happiness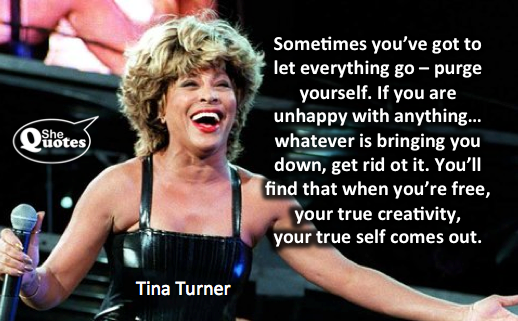 Isn't it amazing how we often whinge, whine and complain about the shit in our lives but we still hold on to it like we're going to drown if we let it go and then when we finally DO let go we may sink a bit but then we float back up to the surface free, unencumbered and ready to swim?
Letting go rocks. Just like Tina does.
Are You Hiding? Or Shining Brightly?
Life Can Be Scary. It's OK To Feel Afraid.
10 Rules For Amazing & Brilliant Women
7 Good Reasons to Leave Bad Love Relationships
Tina Turner Is The Only Hero We Need
I'm All The Woman That I Want To Be
attitude, challenges, confidence, courage, creativity, determination, feminism, freedom, greatness, inspiration, learning, letting go, life, potential, self esteem, success, Tina Turner, Values