Erica Williams Simon sees violence in silence #SheQuotes #quote #silence #power #violence
Erica Williams Simon sees the violence in silence #SheQuotes #quote #silence #power #violence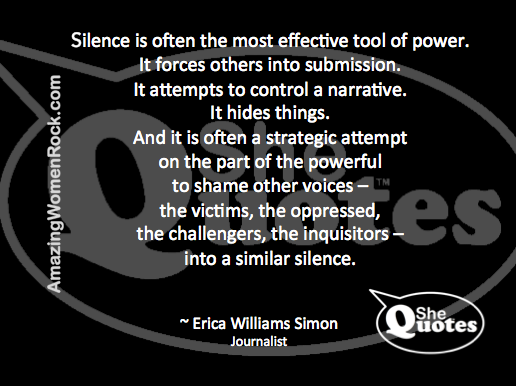 This struck more than a chord with me. It evoked a whole symphony! And it's not just about silence around sexual assault issues. No. It's about the power differential that forces the less powerful to make their voices heard in extreme and sometimes violent ways.
Further, what does it say about the state of gender equality when it takes the voices of 15 women speaking out before we question the voice of ONE powerful man? Something is wrong with this picture.
The quote is lifted from this article by Simon on Bill Cosby's silence in the face of allegations of sexual assault by 15 women over a period of 30 years.
Read the full article including Cosby asking for the reporter's silence.
Do You Have A Voice? Make It Heard Now.
confidence, courage, determination, equal opportunity, equality, Erica Williams Simon, feminism, government, inspiration, self esteem, Women's rights