Be silly just for the sake of it #SheQuotes #Quote #fun #life #humour #age #youth
Be silly just for the sake of it #SheQuotes #Quote #fun #life #humour #age #youth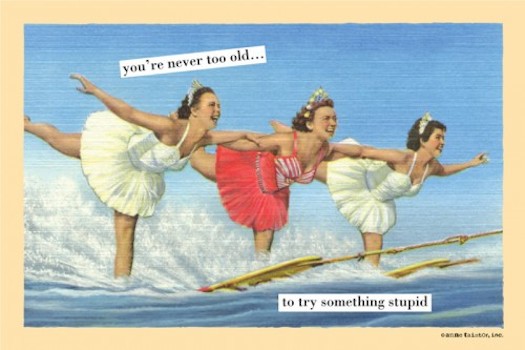 Do these woman look like they're having fun or what?
We're never to young or too old for play. Playing is part of being human. It's how we learn. It's how we live. Do something silly and stupid every single day just for the fun of it. And then laugh your ass off for the joy of it all.
More quotes on fun.
17 Thoughts on Being Old and Grey
Here's To Being A Crazy One. A Misfit. A Rebel. And A Square Peg In A Round Hole.
Do Something Silly Today, And Every Other Day Too!
A bunch more silly and fun links.
#SheQuotes, aging, attitude, craziness, creativity, enjoyment, fun, health, humour, inspiration, learning, life, potential, stupidity