Malala on being awarded the 2014 Nobel Peace Prize #SheQuotes #Quotes #humility
Malala on being awarded the 2014 Nobel Peace Prize #SheQuotes #Quotes #humility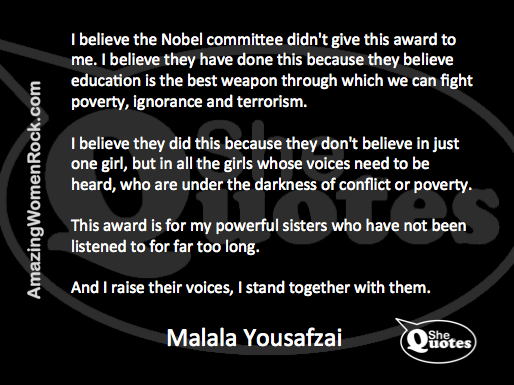 Malala Yousafzai spoke her truth at the UN on her 16th birthday, July 12, 2013. Video highlights here: http://ow.ly/mVg9W (Thx to The Daily Beast) What a remarkable young woman!
Suheir Hammad Performs Poems of War, Peace, Women & Power
Last Night I Had The Strangest Dream: Peace
Find Peace & Healing In Your Core
Susan Macaulay is the creator and curator of She Quotes, Amazing Women Rock and My Alzheimer's Story. She also blogs about other random stuff here.
2014, attitude, confidence, courage, determination, education, equality, girls, goals, government, greatness, humility, inspiration, laureate, learning, Malala Yousafzai, Nobel Peace Prize, Pakistan, power, success, United Nations, winner, women