#SheQuotes proverb on kissing ass #quote #attitude #integrity #power
#SheQuotes proverb on kissing ass #quote #attitude #integrity #power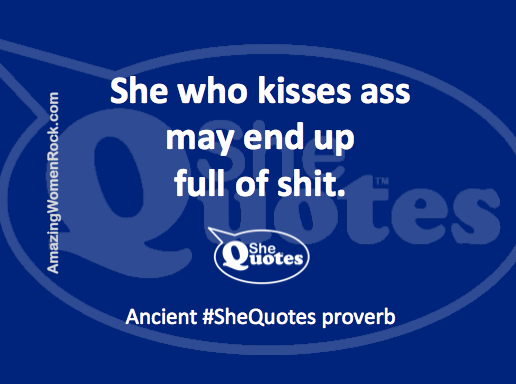 Pretty much says it all doesn't it LOL?
Here's To Being A Crazy One. A Misfit. A Rebel. And A Square Peg In A Round Hole.
Here's To The Crazy Ones: Let's Emulate
Do Something Silly Today, And Every Other Day Too!
6 Powerful Ways to Make Your Life More Beautiful
30 Tips To Live A Magically Wonderful Life
50 Ways to Give Thanks to Yourself
An Everyday Checklist For Happiness
Fill The Empty Box With Something Joyful
Hair Today, Gone Tomorrow
Susan Macaulay is the creator and curator of She Quotes, Amazing Women Rock and My Alzheimer's Story. She also blogs about other random stuff here.
#SheQuotes, attitude, confidence, courage, determination, equal opportunity, equality, feminism, greatness, inspiration, learning, life, potential, self esteem