#SheQuotes Isabel Allende on passion #Quote #passion #life #love #wisdom
#SheQuotes Isabel Allende on passion #Quote #passion #life #love #wisdom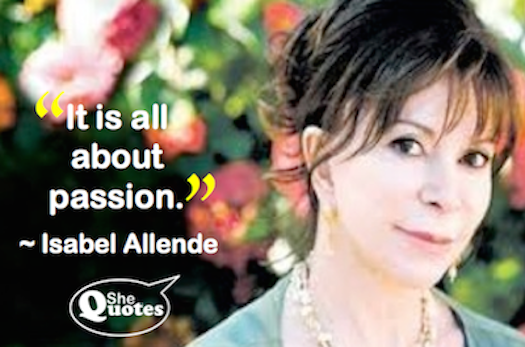 If you don't have passion, you may as well curl up in a ball and go to sleep for the rest of your life.
Passion and purpose – an unbeatable combination!
Isabel Allende Tells Tales of Passion
Isabel Allende (Writer/Feminist)
Susan Macaulay is the creator and curator of She Quotes, Amazing Women Rock and My Alzheimer's Story. She also blogs about other random stuff here.
attitude, confidence, feminism, goals, greatness, inspiration, Isabel Allende, learning, life, passion, potential, purpose, self esteem, success, Values