Lauren Bacall on confidence #SheQuotes #quote #women #voice
Lauren Bacall on confidence #SheQuotes #quote #women #voice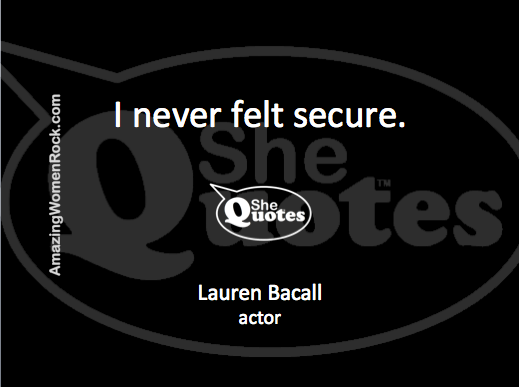 Girls and women are socialized to defer to men. It takes courage, determination and skill for girls and women to voice their opinions in a world that tends to discount us.
We need to speak up, speak out and make our voices heard. It's time for a change.
Do Women REALLY Talk More Than Men?
5 Top Tips For Aspiring Women Speakers
20 Sheryl Sandberg Quotable Quotes
7 Powerful Secrets For Parenting Girls
Sheryl Sandberg on Why We Have Too Few Women Leaders
5 Ways to Take Credit & Not Be A Dick
Open The Door To Possibility
Sheryl Sandberg (CEO of Facebook/Former Chief of Staff US Department of the Treasury)
AAA Alphabetical TED Women Talks List
Life Can Be Scary. It's OK To Feel Afraid.
The Margaret Moth Story: FEARLESS (or: A Heroine Just Walked Into My Life)
You Don't Have To Be Shot At To Be Brave
Run Like A Wolf Toward Your Fears! (1 minute video)
 
Susan Macaulay is the creator and curator of She Quotes.  Susan also created and curates Amazing Women Rock and My Alzheimer's Story. AND she goes a little crazy and blogs about random stuff here.
attitude, confidence, education, equality, feminism, Gender, Gender equality, Lauren Bacall, opinions, potential, self esteem, Sexism, speaking, success, voice, women, Women's rights