#SheQuotes on repairing broken you #Quote #healing #love #self #esteem
#SheQuotes on repairing broken you #Quote #healing #love #self #esteem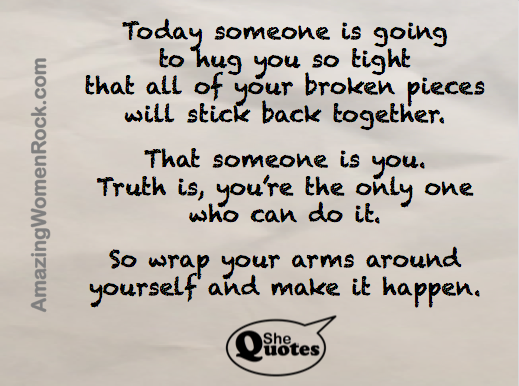 So. I stumbled across a version of the upper part of this quote. It said: "Someday someone is going to hug you…" blah blah. I shared it on the @SheQuotes FB page; it generated a slew of comments such as:
I wish they would hurry up I'm tired of feeling broken everyday
what you did for me baby!

 

Hope it is soon

I hope so.
I just told my daughter the other day, that I was waiting on a hug. Hope I don't die waiting.
Waiting patiently ♡
I wish!
And I thought": "Wait a minute! WTF are we doing waiting around for someone to make us whole!?" Uh. NO! That's OUR job. It's OUR job to make ourselves whole. And that's where the revised quote above comes from. Just in case you were wondering… 😉
#1 Way To Do Positive Affirmations
10 Affirmations to Kickstart Yourself
37 Quick Tips To Help Maintain Your Sanity
5 Ways To Make Today Better Than Yesterday
7 Good Reasons to Leave Bad Love Relationships
Be A Queen: Own Your Power And Glory
I'm Gonna Ride On Into The Next Town
30 Relationship Tips For Women Who Love Men
An Open Letter To Girls About the Men Who Fear Them
10 Life Lessons I Learned From Being a Biker
Susan Macaulay is the creator and curator of She Quotes, Amazing Women Rock and My Alzheimer's Story. She also blogs about other random stuff here.
attitude, courage, greatness, hope, hugs, inspiration, learning, life, love, potential, self esteem, success, Susan Macaulay, Values