#SheQuotes Jill Churchill on being a good mother #quote #mothers #parenting
#SheQuotes Jill Churchill on being a good mother #quote #mothers #parenting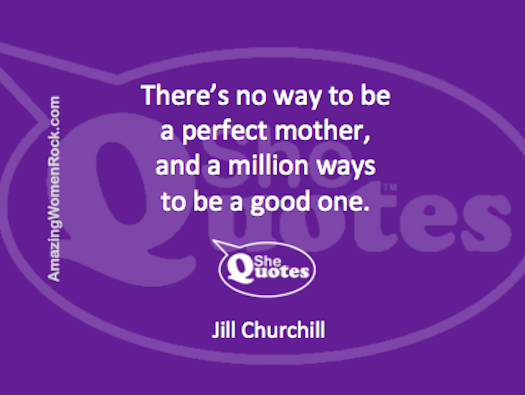 I became a mother to my own in-her-80s Alzheimer's mom when I was 56.
Prior to that I'd never had children; it didn't take me long to discover that motherhood is no easy row to hoe!
IF I HAD MY CHILD TO RAISE OVER
IMAGINE THE POWER OF THIS MOTHER'S LOVE…
5 THINGS WE NEED TO TEACH OUR DAUGHTERS & SONS
I'M HERE TO MOTHER YOU, THROUGH WHEN YOUR DREAMS ARE LONELY
11 THINGS CHILDREN LEARN FROM US
10 Things I Love & Hate About Being A Mom
13 LOL Lessons My Mom Taught Me
12 Things I Learned When You Thought I Wasn't Looking
7 Powerful Secrets For Parenting Girls
Susan Macaulay is the creator and curator of She Quotes, Amazing Women Rock and My Alzheimer's Story. She also blogs about other random stuff here.
attitude, children, courage, determination, family, goals, Jill Churchill, kids, parenting, potential, relationships, Values