#SheQuotes on world peace #Quote #peace #war #conflict #humanity
#SheQuotes on world peace and harmony #Quote #peace #war #conflict #humanity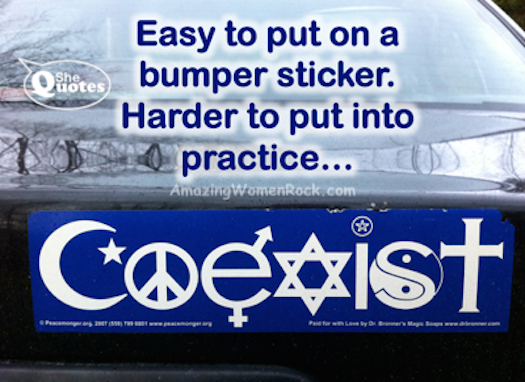 This is a picture of a bumper sticker I came across in 2013 while on a stroll in the small village in which I live.
It reminded that peace lies within each of us. I know because I have felt it myself at my core. Sometimes it takes carving away the chaos, challenges and noise of everyday life to actually get at it (a feat easier said than done!) and sometimes I lack the tools, the will and/or the ability to sculpt my peace at any particular moment.
But I know it's there, deep inside, patiently waiting to be released. I take great comfort in that.
That's why I have faith that we will one day achieve peace between each other as individuals and as nations. It seems unlikely at the moment, but I still believe it's possible.
Suheir Hammad Performs Poems of War, Peace, Women & Power
Last Night I Had The Strangest Dream: Peace
Find Peace & Healing In Your Core
Susan Macaulay is the creator and curator of She Quotes, Amazing Women Rock and My Alzheimer's Story. She also blogs about other random stuff here.
activism, attitude, brotherhood, change, conflict, determination, equality, goals, government, inspiration, learning, non violence, peace, potential, Values, violence, war