#SheQuotes Emma Goldman on living and dying #Quote #life #death #dreams
#SheQuotes Emma Goldman on living and dying #Quote #life #death #dreams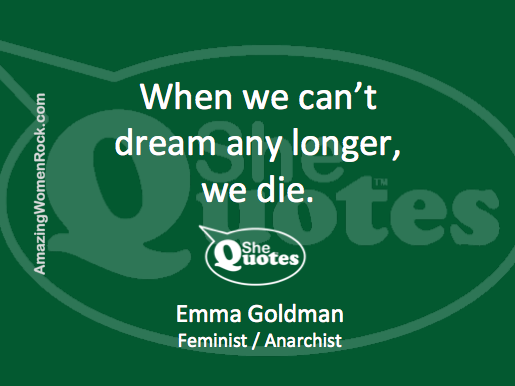 Our dreams keep us going in so many ways. Without them is there much point in living?
10 Rules To Live By Every Single Day
37 Quick Tips To Help Maintain Your Sanity
30 Tips To Live A Magically Wonderful Life
6 Powerful Ways to Make Your Life More Beautiful
Fill The Empty Box With Something Joyful
Here's To The Crazy Ones: Let's Emulate
Leap With Faith & Land On Your Feet
Susan Macaulay is the creator and curator of She Quotes, Amazing Women Rock and My Alzheimer's Story. She also blogs about other random stuff here.