#SheQuotes mothers on why you should do it #Quotes #mothers #parenting #children #LOL
#SheQuotes mothers on why to follow orders 🙂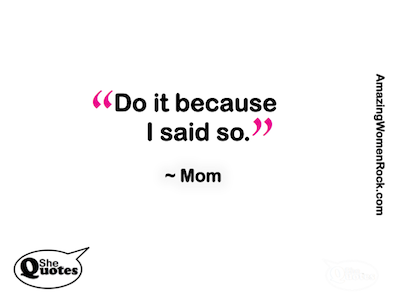 Woot! How many times did I hear that growing up! Frustrating when you're a kid, but I turned out relatively okay so….
On Mothers, Daughters and Bad Hair Days
Oh Mom! (A mother/daughter moment remembered)
Life Really Boils Down To Two Questions
#1 Answer To: Who Is Your Favourite Parent? (video ROFL)
Susan Macaulay is the creator and curator of She Quotes, Amazing Women Rock and My Alzheimer's Story. She also blogs about other random stuff here.
#SheQuotes, caring, children, fathers, feminism, Gender, Gender equality, life, love, Mother's Day, mothers, parenting, sex, Sexism, women