#SheQuotes Sandra Galati on self belief #Quote #love #self #esteem #confidence #attitude
#SheQuotes  Sandra Galati on self belief #Quote #love #self #esteem #confidence #attitude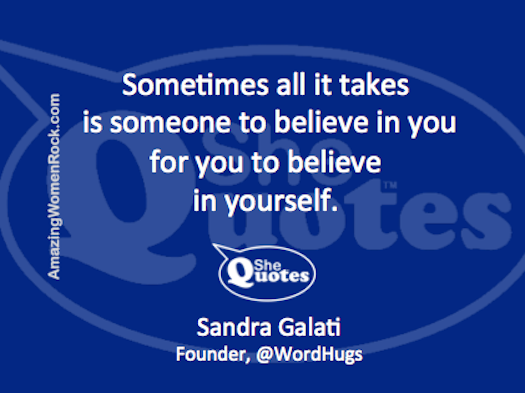 During my years as a public speaking coach and life coach, I found one of the most valuable things I could do for my clients is to believe in them. When I believed in them and they knew without a doubt that I did, suddenly something switched for them and they began to believe in themselves. Self belief is an extremely powerful force. If you feel yourself floundering, get yourself a cheerleader or two!
Be A Queen: Own Your Power And Glory
I see amazing women. What do YOU see?
7 Good Reasons to Leave Bad Love Relationships
Invisible Women: Where Is Half The World's Population?
If I Had My Child to Raise Over
7 Powerful Secrets For Parenting Girls
10 Top Tips for Living in Love
7 Doorways to Love & How To Open Yours!
attitude, being human, change, confidence, courage, empowerment, goals, inspiration, Katharine Hepburn, life, potential, self esteem, success