#SheQuotes on loving ourselves and others #Quote #love #compassion
#SheQuotes on loving ourselves and others #Quote #love #compassion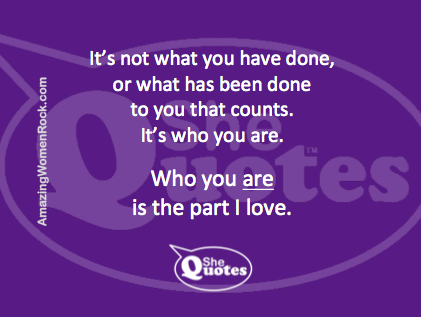 On June 10, 2014, I ran a post on the AmazingWomenRock Facebook page about an editorial on violence against women. I asked page fans to share if they had ever been sexually assaulted or if they knew anyone close to them who had been. Many women answered Yes. Many also shared comments about the ongoing pain they suffer as a result of what was done to them through no fault of their own. This quote is dedicated to them and to everyone who has suffered at the hand of others.
I see you. I understand you. I have been in your shoes. My heart is with you.
These are the words that create bonds between us, develop self-esteem and empower us to be our best selves.
15 Empowering Things to Tell Your Kids (and Yourself!)
I see amazing women. What do YOU see?
I See You (a poem to my Alzheimer's Mom)
7 Good Reasons to Leave Bad Love Relationships
Invisible Women: Where Is Half The World's Population?
If I Had My Child to Raise Over
7 Powerful Secrets For Parenting Girls
10 Top Tips for Living in Love
7 Doorways to Love & How To Open Yours!
30 Relationship Tips For Women Who Love Men
21 Definitions of What Love Is
8 Signs to Know When It's Time to Break-up
#SheQuotes, beauty, change, confidence, courage, health, inspiration, learning, parenting, potential, self esteem, sex