#SheQuotes on who you are #Quotes #you #self #esteem #uniqueness #beauty
#SheQuotes on who you are #Quotes #you #self #esteem #uniqueness #beauty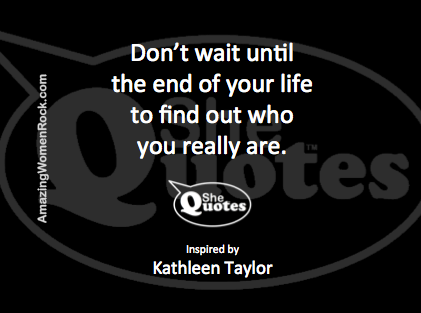 Dying is top of my mind these days. That means LIVING is even more so. Synchronistically, Scott Distasio whom I don't know from a hole in the wall randomly sent me (today via AmazingWomenRock.com) a link to this 2012 TEDxTampaBay talk by Kathleen Taylor. Clearly I was meant to share it with you:
Be A Queen: Own Your Power And Glory
We All Make Herstory in Our Own Way
Here's To The Crazy Ones: Let's Emulate
Fitting In Is Vastly Overrated, It's Proven
Here's To Being A Crazy One. A Misfit. A Rebel. And A Square Peg In A Round Hole.
#SheQuotes, death, discovery, hope, inspiration, learning, life, love, potential, reflection, self, success