#SheQuotes on life and death #Quotes #life #adventure #joy #energy #fun #aware
#SheQuotes on life and death #Quotes #life #alive #joy #energy #fun #aware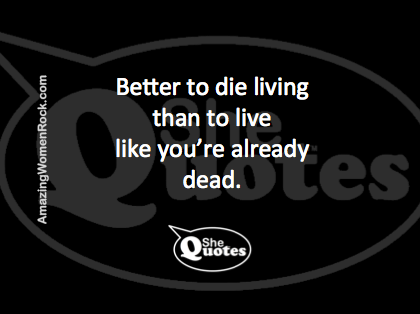 Live life while you're alive. You're gonna' be dead for a helluva' long time!
10 Affirmations to Kickstart Yourself
10 Life Lessons I Learned From Being a Biker
3 Women Explorers Who Made History
8 Ways to Spice Up Your Sex Life
92-year-old Sky Diver Still Finding Adventure
Alexandra David-Neel (Explorer/Anarchist)
Alice Ramsay (Driver / Maverick / Pioneer)
Amazing Katie Spotz Rows Solo Across The Atlantic
Amelia Earhart (Iconic Aviator/Equal Rights Campaigner)
Elly Beinhorn (Aviator / Pilot)
Freya Hoffmeister (Kayaker/Adventurer)
Annie Oakley (Sharpshooter/Superstar)
Australian Aviator Flew Far and Wide
Being A Survivor Is Like Riding A Bike
Do Stuff That Thrills & Excites You!
Funny, She Doesn't Look Like An Arctic Explorer
Glam DJ Granny Mixes Tunes In Clubs
#SheQuotes, alive, attitude, change, confidence, courage, death, determination, equal opportunity, explore, fun, goals, greatness, health, hope, inspiration, learning, life, potential, self esteem, success, Values