#SheQuotes Mary Elizabeth Frye on death #Quotes #life #death #grief #celebration
#SheQuotes Mary Elizabeth Frye on death.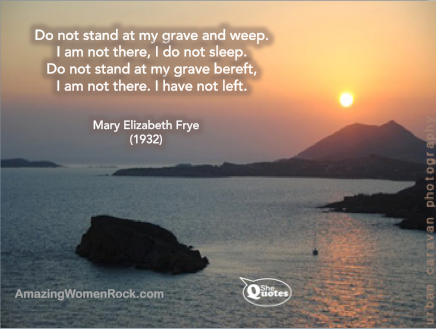 It's such a comfort to know those who leave us are never really gone. They live on in our memories, in our selves, and in the legacy they have left behind.
The full poem is here:
Do Not Stand At My Grave And Weep
Other links:
Things Are Not Always What They Seem
10 Lessons to Learn From A Dog's Life
Goodbyes Are STILL Sad Things, 33 Years Later
Four-Year-Old Meredith Writes A Letter To God
what it looks like when an angel loves you
some promises aren't worth keeping
Susan Macaulay is the creator and curator of She Quotes, Amazing Women Rock and My Alzheimer's Story. She also blogs about other random stuff here.
celebration, change, death, gratitude, hope, inspiration, life, loss, Mary Elizabeth Frye