#SheQuotes Patrick Stewart on stopping violence against women #Quotes #VAW #men #women
#SheQuotes honourary AWR woman Patrick Stewart on stopping violence against women.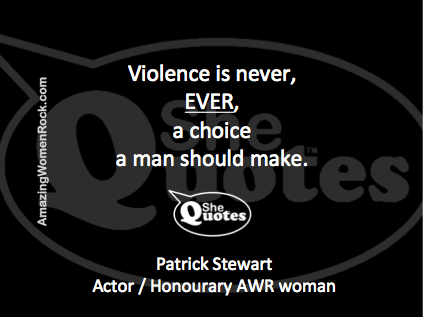 This quote was taken from this inspiring answer to an audience question:
Heather Skye, the woman who asked the question and posted the video says:
This was my question to Sir Patrick Stewart at Comicpalooza 2013. I wanted to thank Patrick Stewart for his speech at Amnesty International it personally help me put a name to the abuse, sexual abuse in my case, I had experienced in the past. He responded very passionately and the last thing I thought I would get at was a heartfelt hug.

When he embraced me he told me "You never have to go through that again, you're safe now". I just kept thanking him.

I hope everyone who needs help in abusive or violent situations has the courage to do so. There are people willing and ready to help you.
7 Good Reasons to Leave Bad Love Relationships
10 Ways Men Can Prevent Gender Violence
Break the Chain. Be One in a Billion Rising.
11 Rape Related Blog Posts Worth Reading
Rape Survivor Lisa Marie Iyotte Introduces President Obama
4 Tongue-in-Cheek Takes on Legitimate Rape
An Open Letter To Girls About the Men Who Fear Them
Acid Attack Survivor Katie Piper's Beautiful Face
change, courage, equality, fathers, feminism, Gender, Gender equality, goals, health, hope, inspiration, Patrick Stewart, self esteem, Sexism, violence, violence against women, war, Women's rights