#SheQuotes on personal power #Quotes #self #esteem #courage #power #confidence
#SheQuotes on personal power.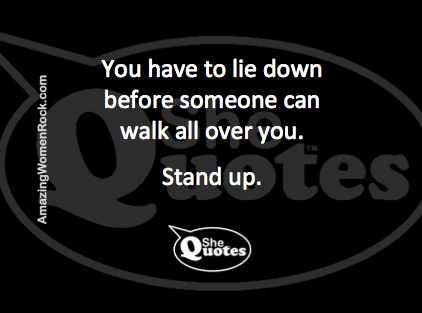 Someone said this the first part of this quote to me years ago. I can't remember who it was or where or when, but after they said "you have to lie down before someone can walk all over you," I thought "yeah, that is so right," and immediately after that I said to myself "stand up." I've been standing up ever since. Sometimes I get knocked down. When I do, I get up, dust myself off and stand up again. It works.
#1 Way To Do Positive Affirmations
10 Affirmations to Kickstart Yourself
37 Quick Tips To Help Maintain Your Sanity
5 Ways To Make Today Better Than Yesterday
7 Good Reasons to Leave Bad Love Relationships
Be A Queen: Own Your Power And Glory
I'm Gonna Ride On Into The Next Town
30 Relationship Tips For Women Who Love Men
An Open Letter To Girls About the Men Who Fear Them
10 Life Lessons I Learned From Being a Biker
How One Woman Stopped FGM In Her Village
#SheQuotes, attitude, confidence, courage, feminism, goals, greatness, health, hope, inspiration, life, potential, relationships, self esteem, Values, women