#SheQuotes on Mother's Day gratitude #Quotes #mothers
#SheQuotes on Mother's Day.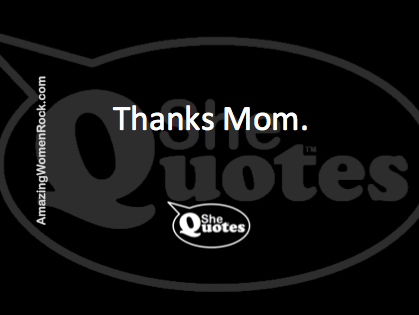 A friend of mine observed to me today that one doesn't even have to be a woman to be a mother. I thought that an interesting observation on the eve of Mother's Day. I believe the core quality of being a mother is compassion. If you've got that, you're well on your way to being a "mom."
On Mothers, Daughters and Bad Hair Days
Oh Mom! (A mother/daughter moment remembered)
More quotes on gratitude.
6 Powerful Ways to Make Your Life More Beautiful
30 Tips To Live A Magically Wonderful Life
50 Ways to Give Thanks to Yourself
An Everyday Checklist For Happiness
Fill The Empty Box With Something Joyful
Hair Today, Gone Tomorrow
We May Not Be Famous, But We Can Be Grateful
#SheQuotes, caring, children, fathers, feminism, Gender, Gender equality, life, love, Mother's Day, mothers, parenting, sex, Sexism, women