#SheQuotes on what turns women on #Quote #sexuality #conversation #foreplay
#SheQuotes on sex, sexuality and what turns women on.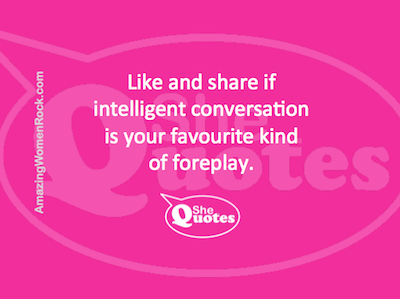 Yes, women get turned on by intelligent conversation, tenderness, attention, and feeling appreciated. Most of like sex a lot. But we're tired of having to put up with men who don't understand that our brain is the most important sex organ in our body. We're also tired of men who don't know about the other important aspects of our sexuality and the nature of how our bodies work. Wise up guys.
How To Get Your Wife To Orgasm
The Male Point Of View On Female Orgasms
7 Reasons Why Pleasure Is Essential To Your Success
Mary Roach Tells Of 10 things You Didn't Know About Orgasm