#SheQuotes honorary woman Jon Stewart on women in politics #Quotes #feminism #sexism #misogyny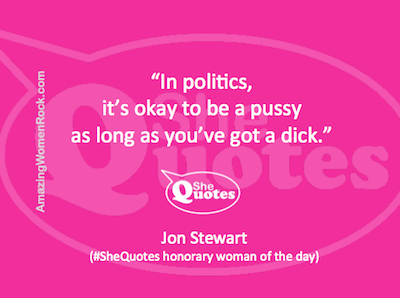 I love you Jon Stewart. You are SUCH a great feminist voice! Your April 22, 2014 Daily Show segment is the best-ever (not to mention funniest) take down of the way women in high places (politics, government, business) are perceived and portrayed differently in our global patriarchal society and similarly reflected in our mass media.
This segment is a must watch:
See also:
"When all is said and done, more gets said than gets done…" ~ Sen. Barbara Mukulski tells it like it is here.
change, equal opportunity, equality, feminism, gender parity, government, humour, Jon Stewart, Sexism, success, women, Women's rights