#SheQuotes on fear and ferocity #Quote #fear #life #success #determination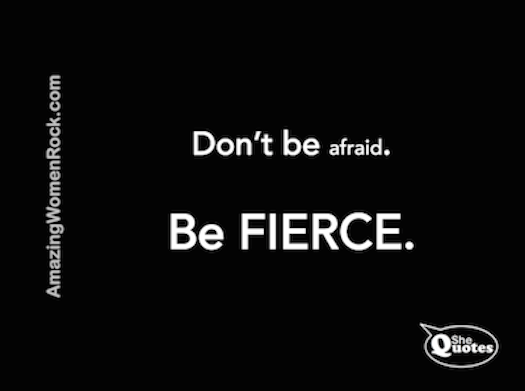 It's so much easier to be fearful than it is to be ferocious, and so much harder to be courageous. But the rewards for courage are immense: new experiences, growth, success (and failure!), learning, personal development, the knowledge that we faced down a bully, a challenge or indeed ourselves and came out the other side in one piece. Walk through your fear fiercely and reap the rewards on the other side. Click on the links below for help and inspiration.
Life Can Be Scary. It's OK To Feel Afraid.
The Margaret Moth Story: FEARLESS (or: A Heroine Just Walked Into My Life)
You Don't Have To Be Shot At To Be Brave
Run Like A Wolf Toward Your Fears! (1 minute video)
#SheQuotes, attitude, change, confidence, courage, fear, goals, greatness, inspiration, learning, life, potential, success