I'm a #‎SheQuotes‬ kind of woman #Quotes #women #girls #confidence #self #esteem
I'm a #‎SheQuotes‬ kind of woman #Quotes #women #girls #confidence #self #esteem
No doubt about it. AMAZING through and through 🙂
More love quotes.
More relationship quotes.
101 more quotes on love &  relationships (free download February 14, 2015):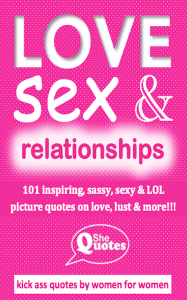 6 Powerful Ways to Make Your Life More Beautiful
Find Peace & Healing In Your Core
10 Affirmations to Kickstart Yourself
40 Ways to Empowerment & Well-Being
You Are Exactly Where You Should Be
Do Stuff That Thrills & Excites You!

Susan Macaulay is the creator and curator of She Quotes, Amazing Women Rock and My Alzheimer's Story. She also blogs about other random stuff here.
#SheQuotes, attitude, beauty, change, confidence, courage, determination, education, equal opportunity, equality, feminism, Gender, Gender equality, goals, greatness, inspiration, learning, potential, self esteem, success, Values, women, Women's rights